Simone Savannah, Ph.D.
---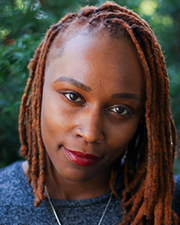 Academic Services Coordinator
Biography
—
simone Savannah earned her B.A. in English-Creative Writing from Ohio University in 2010, and an M.Ed. in Education from Ohio University in 2012. As a McNair Scholar herself, Simone examined 20th-century African American Women's Literature. In 2017, she graduated from the University of Kansas with a Ph.D. in English-Creative Writing while conducting a critical and creative dissertation that considers the historical perceptions of Black womanhood and the Black female body.
She is the author of Like Kansas (Big Lucks 2018) and Uses of My Body (Barrow Street 2020). Her creative work has appeared or is forthcoming in several online and print journals, including The Fem, Ocean State Review, Puerto del Sol, Vinyl, Wus Good, and Apogee. She brings with her a versatile experience in supporting student scholarly development.