Mulubrhan Lemma
---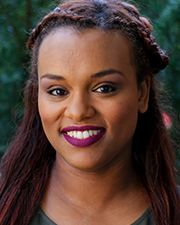 Director of McNair Scholars Program
Biography
—
Mulu Lemma, M.S.Ed., a former McNair Scholar, serves as the Director of KU's McNair Scholars Program. Mulu has worked in TRIO programs in various capacities for several years. Mulu has a background in counseling psychology and advising middle/high school, college students.
She has served on the Diversity Council, Diversity Collaborative, Global Scholars Program, and many other initiatives on the University of Kansas campus. Mulu was the co-chair of the Heartland McNair Undergraduate Research Conference for seven years and continues her leadership through TRIO professional organization.
Prior to working with TRIO, she worked in mental health counseling for the uninsured in the Greater Kansas City area. During her spare time, Mulu enjoys reading, running, and volunteering in her community. A native of Ethiopia, she has made her home in Kansas City.